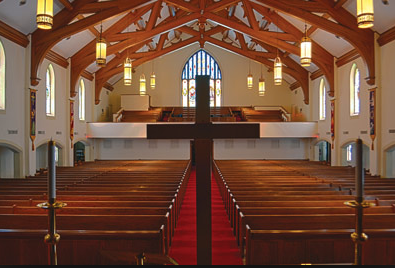 Sample Church
17 Main St.
Harbor Town, MI 48160;
Service Times
8:30 a.m.
10:30 a.m.
The worship entrance is located just off of the Main street. When you arrive at the Mainstreet entrance, you will find guest parking in the front to your left. As you enter the building, the worship space will be in front of you and to your left. The washrooms are located to the right of the entrance. You'll also see signage for a welcome desk. The attendant will be happy to answer any questions you may have about the church.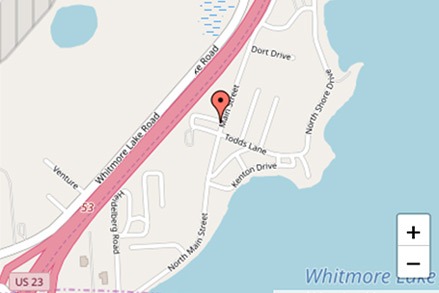 Points of Interest in the Building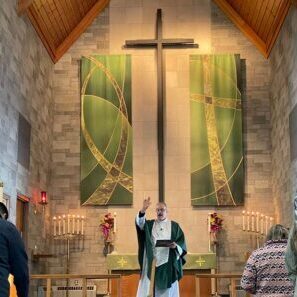 The Worship Center (Sanctuary)
As you enter the building, the doors to enter the worship space (the Sanctuary) will be in front of you and to your left.  The people around the doors are there to provide you with a written order of service (bulletin) and assist you in finding a seat if you desire assistance.  We do not have assigned seating, so pick any space that is convenient.  If you are new to our church and have not been to a Lutheran Church before this visit, you may want to sit about two-thirds of the way from the front of the worship area.  That location will enable you to follow the people in front of you during the service.  While not an official or unofficial policy of the church, often the parents with very small children will sit at the back of the church to have quick access to the restrooms.  We love that parents demonstrate the priority of faith development in their little children by attending church.  For us, the noise of little ones in worship is a beautiful song of praise.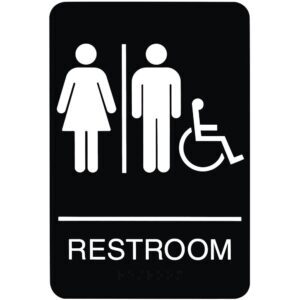 The Restrooms
If you look to the wall on your right, you will see signage that will direct your way to the restrooms.  The men's and women's restrooms have fully stocked changing stations.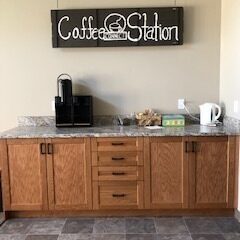 Coffee Station
Our goal is not to be a replacement for Starbucks.  We do appreciate your presence in our community and we invite you to join us for a complimentary cup of hot coffee, tea, or a chilled bottle of water.  Beverages are permitted throughout the church building.  We value our local merchants and support their work in our community.  Therefore, we purchase most of the coffee we serve Sunday mornings from The Owl Coffee Shop. If you've not visited with the owner, Don, please do so.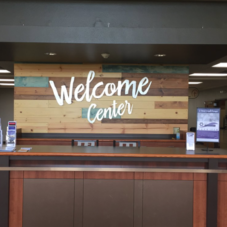 Welcome Center
The Welcome Center is a great place to get questions about the church answered and to pick up a guest information packet.  You will be invited to share your contact information to be kept up-to-date on the events of the congregation.  However, you are not obligated, nor will you be pressed to provide your information.